Hello Carroteers!
Spring has officially sprung, and with that comes some fun new updates from the Carrot team that are sure to brighten your day — check them out!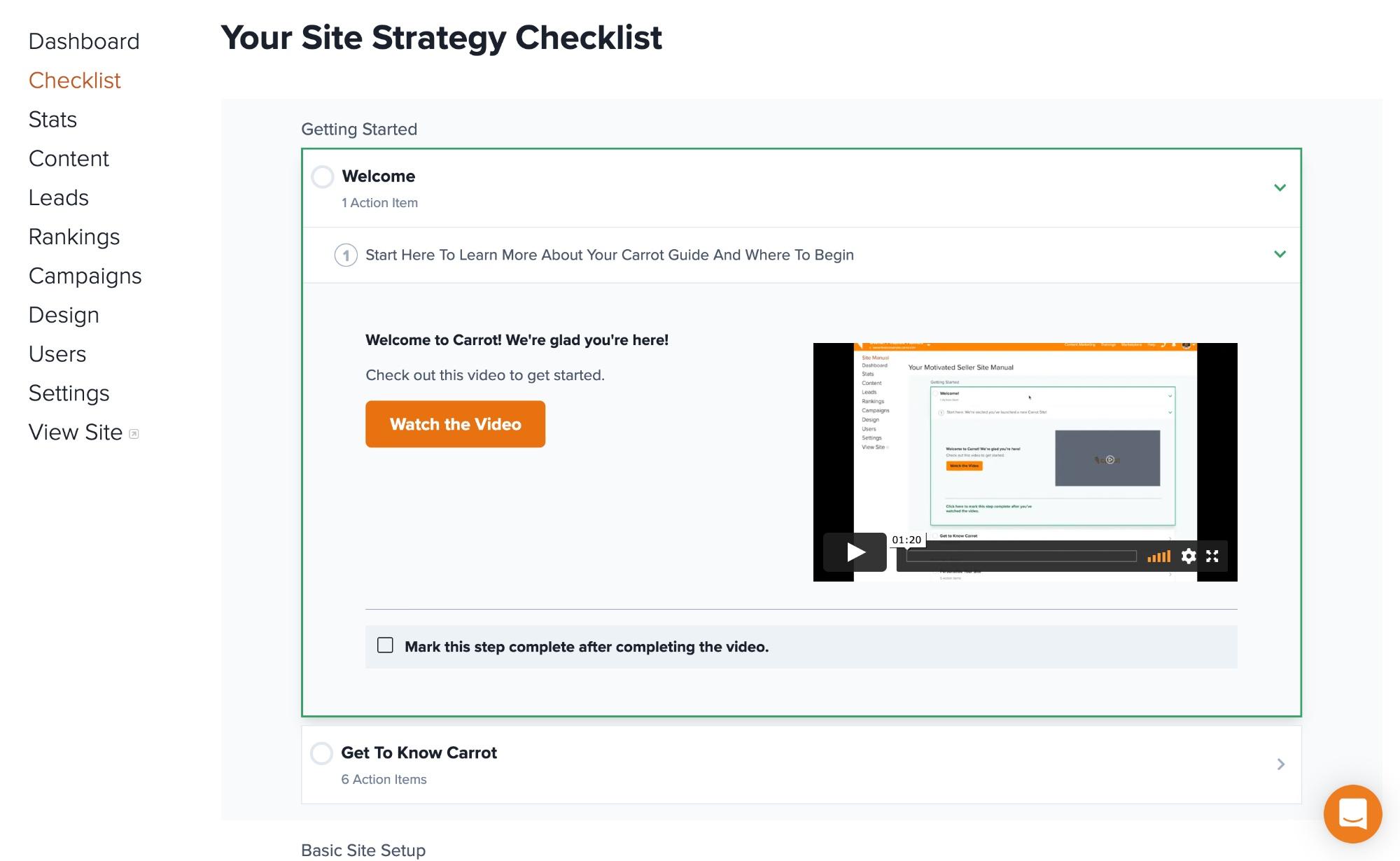 Introducing our all-new Site Strategy Checklist
Our new Site Strategy Checklist for our Motivated Seller Sites provides an easy-to-follow guide for creating and managing a successful Carrot site and marketing strategy. If you have an active Motivated Seller Site, you can check it out here →
This is the first of many more new site checklists to come! Our team will be hard at work this year rolling out new Site Strategy Checklists specific to each of our Site Templates to make sure you have the best site — and strategy — to keep your business growing.
Say hello to a better Carrot IDX
We're excited to announce our new and improved Carrot IDX! This update brings the online home search experience retail buyers and sellers now expect directly to your Carrot site, featuring more Advanced Search options, mapped results, and an improved interactive map view. Read more about the update here →
... And better Carrot IDX pricing!
To celebrate our recent update to Carrot IDX, we also updated our pricing. IDX is now included in the $199/mo price for our Advanced Marketer plan! That's right, we removed the $50/mo Carrot IDX fee and the $200 set up fee for Advanced Marketers, so all you have to pay are the pass-through fees. Click here to add IDX to your site or head over here to upgrade to Advanced Marketer and take advantage of our new pricing!
Less hero content can increase conversions by 50%
We recently tested how the amount of content in the hero section impacts conversion across a myriad of Carrot site types, categories, layouts and environments – and the results were quite amazing. Read our latest blog to learn how reducing the amount of content in your hero could improve your site's conversion rate by 20-50%! Check it out here →
Other Fixes & Updates
Secondary logo support: Now you can display a primary and a secondary logo side-by-side on your Carrot site! Simply head over to the Design tab of your site, select an image to upload as your secondary logo, and it will be added to the right of your current logo.
VideoPost email notifications: We made some updates to keep you better informed when your VideoPost transcriptions are finished or if they need a push to get them back on track.
Bulk Lead Management is live: Select multiple or all leads at once and choose from a variety of bulk edit options, including merging leads or moving to New, Follow Up, Pending, Won, or Dead statuses.
Carrotly yours,
Laynie from the Carrot Product Team